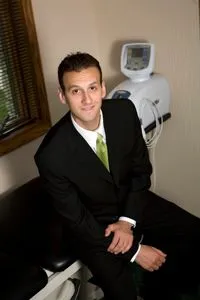 What is a disc herniation?

There are several forms of disc problems that can cause spinal pain. The most common is called a disc herniation. This occurs when the center of the disc erupts (or "herniates") through the outer rings of the disc. This can put pressure on the spinal cord and nerve roots causing spinal pain, neck pain, low back pain, or radiating pain down the arms and legs. Disc herniations aren't the only problems caused by discs.
All forms of disc problems are classified as "disc degeneration."
Stage 1: This degenerative process usually begins when a disc loses its normal motion. This causes the disc to lose hydration and water content. This is sometimes refered to as a "thin disc" or "dessicated disc" and is best diagnosed with an MRI. This will often cause persistent central low back pain.
Stage 2: Left uncorrected, over time the disc will lose strength and the outer rings begin to tear. This is when disc bulges and/or herniations commonly occur. Pain levels can be quite severe, and can even radiate down the arms or legs depending on the herniation.
Stage 3: After years of improper disc health, bone spurs begin to form and the degenerated disc is now accompanied by arthritis. Remember, this entire process started with improper motion.